Beat the Heat ― Don't Let the Energy Bill Beat You
The peak of summer is here, and all we can do is prepare ourselves for high energy bills this season. Our bank accounts take a hit every time we want to take a break from the heat, but does it always have to be this way? Fortunately, your worrying days are now over, says our trusted Roswell AC repair professionals. You can enjoy a more comfortable indoor environment through the dog days of summer without racking up exorbitant energy costs. How do you do it? We want to help you lower those energy bills, so here are some practical and effective tips on how to do just that.
7 Energy Saving Tips from the Experts
1. Turn off the lights. Your mother always told you to turn off all unused light, right? Mother's always right, as they say. You can get significant savings on your monthly energy bills by following your mom's advice, especially if you're still using incandescent or halogen light bulbs. Or better yet, consider installing CFL or LED bulbs, which are much more energy-efficient than incandescent bulbs.
2. Check the ducts. According to Energy Star, properly sealed air ducts can help you save up to 20% on your energy bills, so it really pays to check them out. Aside from using up more energy, leaking air ducts can also affect your in-home comfort, make your home feel stuffy, encourage the accumulation of dust, and compromise your family's health.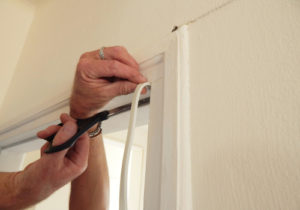 3. Weatherize. Check for leaks around your home and pay particular attention to areas around doors and windows. Ready to get started? Below are some practical suggestions that can help keep cold air from escaping during these hot summer days.
Apply caulk on the outside edges of doors and windows.
Use door sweeps and install weather stripping to the inside of the doorjamb.
Insulate the attic and the basement.
Install quality insulated windows, apply window films, and/or hang heavy window drapes or curtains.
Wrap pipes and ducts with good insulating material. Use a good quality foil-faced fiberglass insulation in repairing or replacing your old duct insulation.
4. Change your air filters. If your air filters are all clogged up, your HVAC unit needs to work overtime to do its job resulting in higher energy bills and increasing the risk of system failure.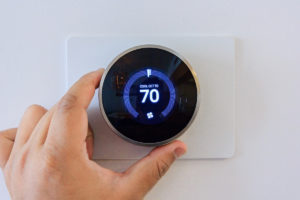 5. Get a programmable thermostat. Aside from ensuring significant cost savings, installing a programmable thermostat can help maintain that perfect indoor environment at all times while keeping your HVAC system optimized.
6. Choose Energy Star appliances. When upgrading old appliances, always look for the Energy Star label. Energy Star-certified appliances generally consume up to 33% less energy compared to older models, meaning they can significantly reduce your monthly energy consumption. By replacing your old HVAC cooling and heating equipment (especially if they are more than 10 years old), you can save up to $115 per year. Those savings could pay for a night out with your family!
7. Stick to a regular maintenance schedule. Have your HVAC system checked by a professional Roswell AC repair technician at least twice a year, preferably before the onset of the summer and winter seasons. With regular maintenance, you can keep your HVAC system in top working condition and avoid costly repairs, prolong its productive life, and ensure energy-efficiency.
Save on Your Energy Bills with Regular HVAC Maintenance
A properly functioning HVAC system can provide you with the ultimate in-home comfort, so don't hesitate to contact us or give us a call at (678) 888-4822 today. One of our highly trained Roswell AC repair technicians will inspect and clean your HVAC unit to make sure everything is in perfect working condition. We're ready to help make you any your family comfortable this summer and throughout all seasons.
Next Post
Your AC Service Roswell Specialists Answer Your Most Common HVAC Questions