How to tell if your commercial unit needs to be checked by a credible Milton AC repair services professional.
Creating a great indoor environment for your employees and customers is always good for business so you need an HVAC system that works up to par day in and day out. Since having a properly functioning air conditioner is critical especially during the hot and humid summer months, you need to keep a watchful eye on your HVAC system to make sure nothing goes wrong. But how do you know if your AC is in top condition or if it already needs repair? You know you need professional Milton AC repair services when you start noticing these telltale signs.
Milton AC Repair Services Asks, Does Your Commercial AC Need Repair? 5 Signs to Watch Out For.
Reduced cooling power. You'll know you have a problem with your commercial AC if it doesn't provide a comfortable indoor environment. If adjusting the thermostat doesn't do the trick, you may need to call in a credible Milton AC repair services professional to check the issue and find out what's causing the problem.
Uneven temperatures. Ideally, the temperature should be consistent all throughout the workspace. So, if the air in certain areas feels warmer than the rest of the workplace, you may have a malfunctioning AC, a duct problem or insufficient insulation.
Increased energy bills. A sudden, unexplained spike in your monthly energy bills may indicate that there is something wrong with your HVAC system. If you notice a significant increase in your power consumption even though you haven't changed the way you use your system, you may have a dirty filter or worse, there may be a possible malfunction within the system. It's best to have it checked.
Strange noises. Does your commercial AC make an unusual buzzing, clanging, groaning or whistling noises? Well, it shouldn't. Commercial AC systems are designed to produce the least amount of noise so if you hear disruptive sounds coming from your AC, this may be indicative of serious mechanical issues that need immediate attention.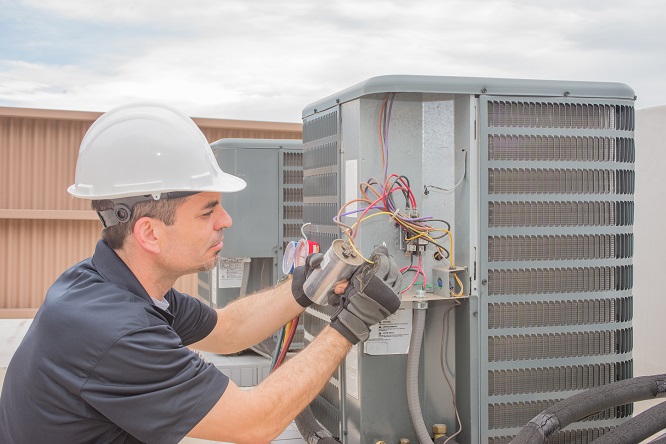 Unpleasant odor. A commercial AC that is giving off foul odors may indicate a serious mold or mildew problem while a burning smell may indicate a faulty, frayed or burning wiring system. When this happens, call in the pros right away to ensure the safety and well-being of your employees and customers.
Credible Milton AC Repair Services at an Affordable Price
Your HVAC system is one of your company's biggest investments. That's why you need to choose a company with a team of highly skilled, NATE-certified technicians that proactively addresses all your HVAC needs. At TemperaturePro North Atlanta, your comfort and satisfaction always come first so we do everything right the first time.
As Milton AC Repair Services, we will gladly address all your questions, comments, suggestions and concerns so please contact us or give us a call at (678) 335-4769 today. There's nothing we won't do for your comfort. You can count on it!
Previous Post
Alpharetta AC Repair Services Shares What To Do When Your AC Goes Out
Next Post
Signs It May Be Time For a New HVAC Services Company