Taking Fall On With HVAC Repair Services in Milton
People suffering from fall allergies may start to feel more than a little uneasy as the leaves begin to change their colors. This is not surprising since autumn brings its own set of challenges, especially to those who are sensitive to mold and ragweed pollen. Yes, summer, along with weed and grass pollen fest may have ended but there are still a lot of things that can trigger your symptoms. If you don't want to go through yet another sneezing season, consider these tips from the credible HVAC repair services in Milton.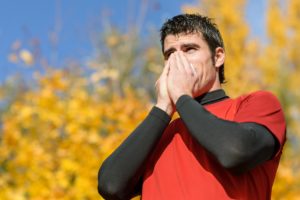 Top 10 Ways to Battle Fall Allergies in Your Home   
Pin down the culprit. Knowing what's causing your symptoms can help you make the necessary changes, so visit an allergist to find out what you're allergic to.
Allergy-proof your bedroom. You may not believe it but the bedroom is a haven for germs, bacteria, and dust mites! However, you can avoid this by using dust mite-proof covers for your pillows and mattress, wash pillowcases, blankets, and sheets weekly in heated water (at least 130oF), and trade your feather or wool bedding for synthetic ones.
Invest in a good quality air purifier. Put an air purifier in every bedroom and turn them on at night to remove harmful contaminants (e.g. bacteria, viruses, mold). This is especially helpful for people who are suffering from asthma and severe allergies.
Remove carpeting. Bacteria, viruses and other allergens (e.g. dust, pollen, pet dander) thrive on your carpet so make sure you vacuum and shampoo it regularly. Better yet, remove it altogether. You're better off without it.
Forego the drapes. Fabric window treatments harbor more allergens compared to blinds or shades, so consider a change.
Get in the habit of vacuuming. Regular vacuuming can help you get rid of the allergens that may have accumulated inside the home.
Use a doormat. Aside from keeping your house spotlessly clean, putting a doormat can keep outdoor irritants from causing havoc inside. You may also consider removing your shoes upon entering to keep your home allergen-free.
Go natural. Some people are allergic to chemical cleaners so if anyone in your family experiences headaches, difficulty breathing or coughing spells whenever you use these harsh chemicals, it's time to go natural.
Change your filters. Don't forget to check your filters at the start of the season. For best results, use a high-efficiency particulate air (HEPA) filter to trap harmful allergens and keep them from circulating inside the home.
Put HVAC system maintenance high on your list. Your HVAC system has been working hard to keep you comfortable throughout the year so make sure it gets all the care and attention it deserves. Avail of an effective yet affordable maintenance plan from a reputable HVAC repair services in Milton to maximize your unit's efficiency and keep it running smoothly for years to come.
Get Fall Allergies in Control with HVAC Repair Services in Milton
Your HVAC system does more than just ensure your family's in-home comfort. It also plays a great role in keeping air-borne allergens under control. Are you sure it can do its job this season? Let us help make sure it does. Contact us or give us a call at (678)888-4822 today and we will gladly address all your questions, comments, suggestions and concerns. There's nothing we won't do for your comfort. You can count on it!
Previous Post
Roswell HVAC Repair Services Share Signs Your System Is Struggling   
Next Post
HVAC Repair Services Alpharetta Explain the Benefits of Installing a New Thermostat